COURSELEAF ANNOUNCEMENT
Become a Certified CourseLeaf Professional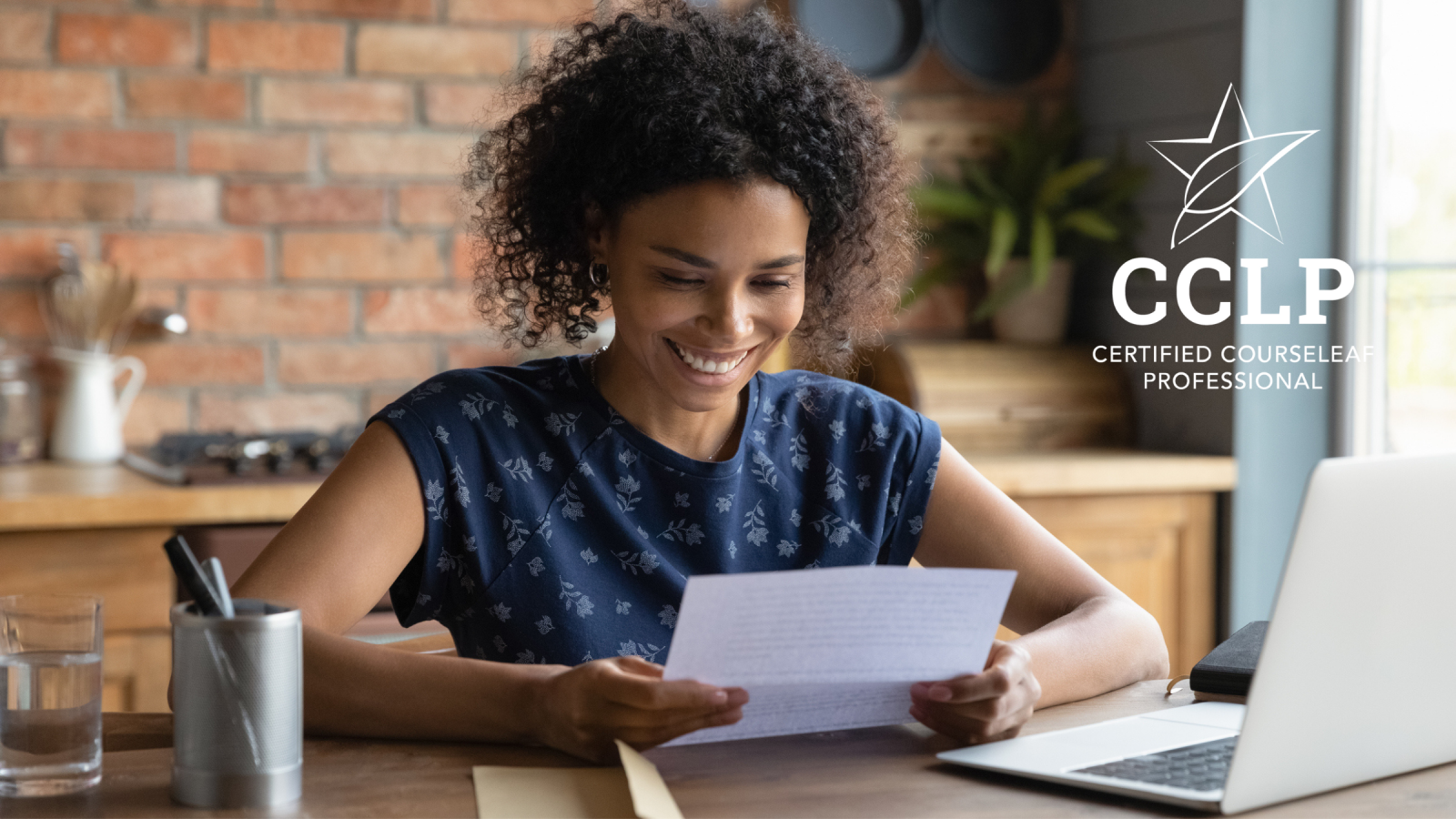 The Certified CourseLeaf Professional (CCLP) is a new credential that can be secured by CourseLeaf administrators to demonstrate proficiency in using CourseLeaf solutions. This new certification is ideal for higher education professionals who have been using CourseLeaf CAT, CIM, our CLSS as a core component of their administrative duties for two or more years.
The CCLP was first imagined by Leepfrog CEO, Lee Brintle. "Several years ago, we began to see clients adding a preference for CourseLeaf proficiency into their job descriptions. We were also hearing that our users wanted a way to express their knowledge. Feedback from the Leepfrog User Community and our assessment partner has really given us the opportunity to offer a professional, strongly assessed credential."
The new certification takes 6-12 months to complete and includes sessions, workshops, practicums, and a series of final assessments. Select beta testers from a handful of client institutions are helping to shape the final content and process.
"I participated in CCLP at exactly the right time," said Krishna Dunston with Delaware County Community College who served as a CIM CCLP beta tester. "As a CIM administrator for my campus, I thought there would be a lot I already knew. However, it was a great mix of CourseLeaf refresher and brand new features. In addition, I got to learn how other institutions used the same tools, gained some best practices – and even picked up a few shortcuts. And it is wonderful to feel not only that it was a good use of my time – but also a good investment for my college."
CourseLeaf Lead Trainer, Shuva Rahim, led the development of CCLP and is already seeing the benefits the program is generating for early participants. "The CCLP is an amazing opportunity for CourseLeaf admins to not just expand proficiency in their software of choice, but also gain a broader understanding of the other major products. Perhaps, though, the most exciting aspect from a development standpoint is to experience how admins are learning from each other and sharing how they handle specific scenarios at their respective institutions."
If you are a CourseLeaf client, join us on our Leepfrog User Community website to learn more about the new CCLP Certification and register for our CCLP LilyPad University Webinar, scheduled for October 26 at 1:00 PM Central Time.