CASE STUDY
Room Scheduling Integration Reduces Conflicts, Empowers Staff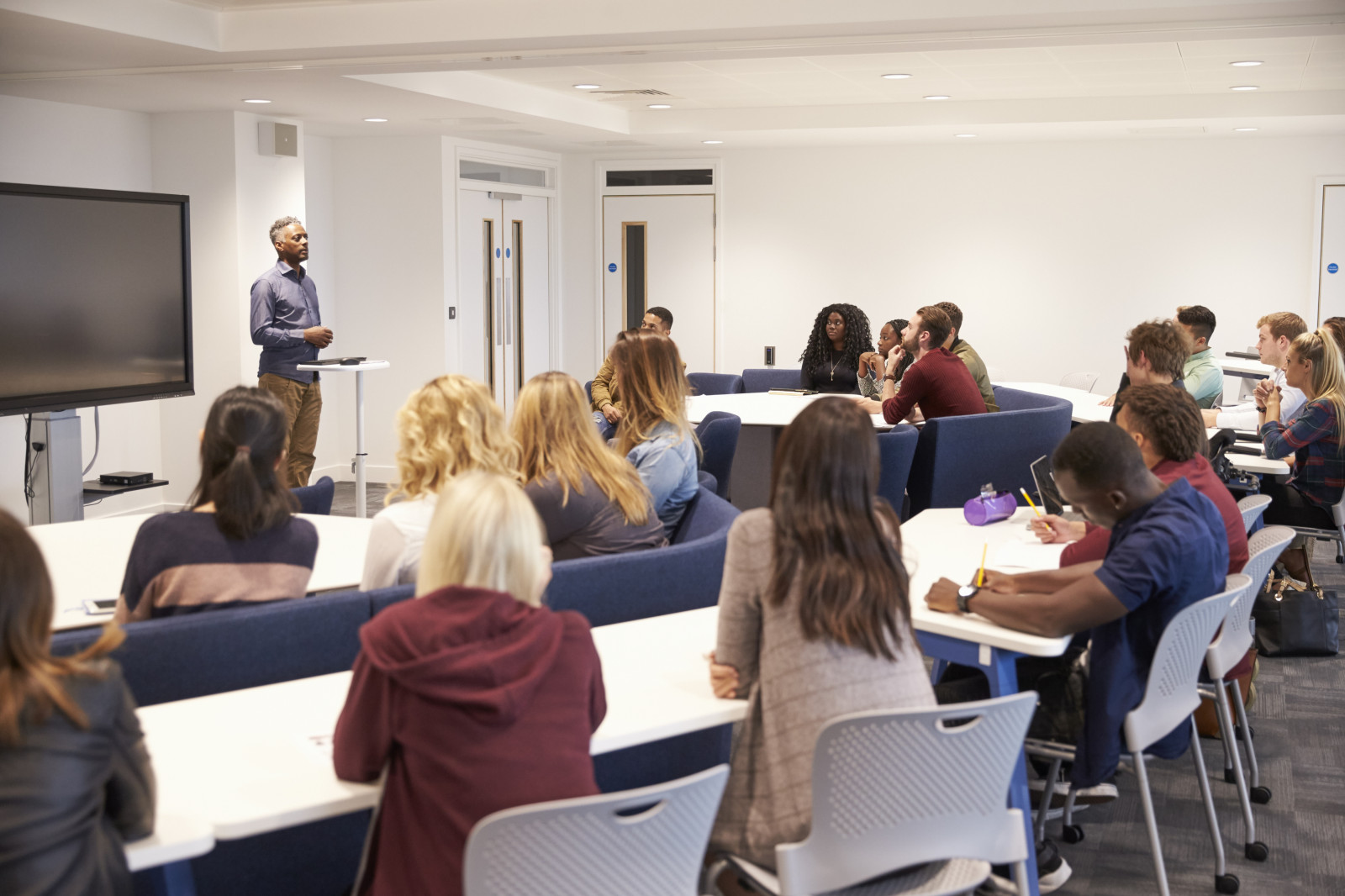 At the University of Wisconsin Milwaukee and George Mason University, CourseLeaf's new Look and Book integration allows staff to schedule courses and reserve rooms on the same platform.
Anne Firth's email inbox used to flood with room reservation requests from department coordinators desperate to lock in a classroom. Jen Steinheiser used to dread notifying schedule builders that their room request clashed with another and that they'd have to start over and find a new space.
Although they were on different campuses, Firth at George Mason University and Steinheiser at the University of Wisconsin Milwaukee, both were dealing with scheduling conflicts, big and small, that created extra work for themselves and their colleagues, which was frustrating.
Today, Firth and Steinheiser have a different outlook thanks to CourseLeaf's newest integration, Look and Book. Look and Book allows up-to-date room availability information from CollegeNET 25Live or Accruent EMS to be shared directly with the CourseLeaf CLSS section scheduling software. The integration has significantly improved campus communication and workflow efficiency.
"The integration made a night-and-day difference for the UWM campus," says Steinheiser. "There's no more toggling between CLSS and 25Live to find alternate classrooms, and there are no more reservation conflicts, which in the past made it difficult to be efficient for some of our most frequent users."
At George Mason, the registrar's office no longer sends out static lists of available classrooms to department coordinators who scramble to reserve rooms before they disappear. "Now, our coordinators have the same information as we do, and they can make their own decisions without asking us," says Firth. "They love the independence the integration has given them."
Seamless Integration
George Mason and UWM moved forward with Look and Book after first hearing about the possibility at the Leepfrog User Community (LUC) Conference in 2021. The LUC Conference is an annual event hosted by Leepfrog Technologies, CourseLeaf's parent corporation, to help CourseLeaf clients get the most out of the company's software products.
More than a year later, users on both campuses report that they enjoy using the two systems together in one place and that they can still use 25Live alone if they need to schedule an ad hoc event. They also report a reduction in room conflicts and extraneous communication and conflict about room changes.
"Now coordinators can switch rooms without contacting the registrar's office in advance," says Firth. "They can also make changes any time of the day or night, not just when our office is open. This added flexibility has been a welcome change."
Although full implementation of Look and Book will vary from campus to campus, it can be extremely quick to set up. UWM's Steinheiser says that the job took about two weeks for their campus, from their first conversation with CourseLeaf about UWM's specific scheduling and room reservation needs to the go-live date.
"It was the simplest integration I have ever participated in," they say. "CourseLeaf walked us through each step, helped us troubleshoot, worked with developers to resolve our need for exclusion dates, and kept in regular communication, which was a huge help."
At George Mason, the largest public research university in Virginia with 39,000 students spread across three campuses, administrators took time to test out the integration and create room reservation rules. They also developed specific search filters and exceptions. As a result, Firth says the campus was able to do away with some validation steps, which, today, makes reserving a room a much quicker process.
"CourseLeaf made the integration easy because they thought of everything and were able to guide us through the process," says Firth.
Steinheiser is grateful for the support and guidance UWM has received thanks to CourseLeaf. From countless conversations with colleagues across the 24,000-student campus, they know Look and Book was the right move to improve the scheduling experience and efficiency.
"I've received only positive feedback," says Steinheiser. "I'm grateful for UWM's partnership with CourseLeaf."