COURSELEAF ANNOUNCEMENT
Course Scheduling and Room Optimization Now Streamlined through Integration between CourseLeaf CLSS® and CollegeNET 25Live®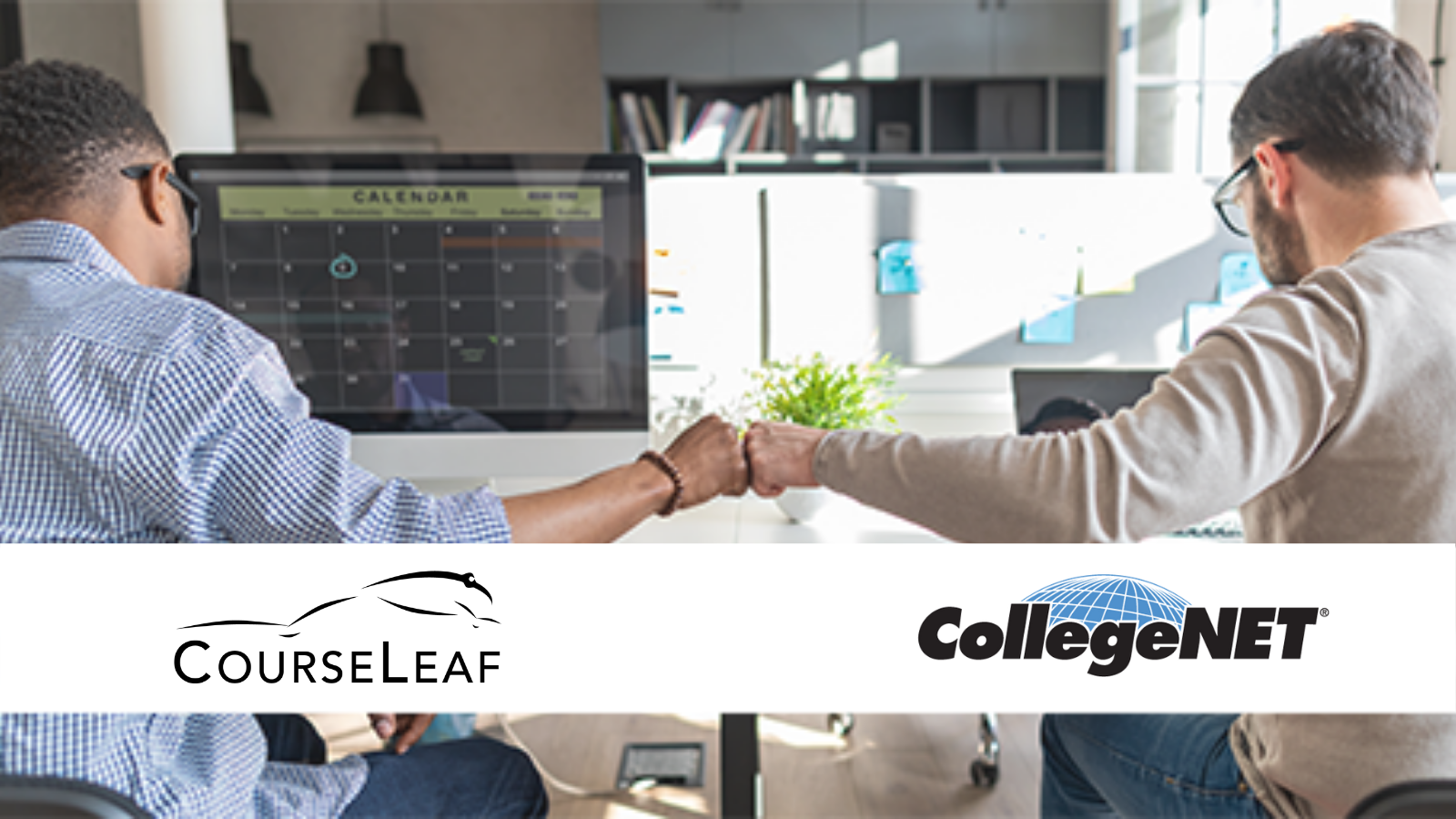 Coralville, IA, January 6, 2021: CourseLeaf announced today that its Section Scheduler (CLSS) now integrates with CollegeNET's 25Live room and event scheduling system. This expands the partnership between the two companies to improve scheduling capabilities among their higher education clients.
The integration allows schedulers to quickly and efficiently select the best room and class section pairings using 25Live data while building a schedule in CLSS, eliminating the need to move between systems. Importantly, the integration provides additional functionality and flexibility to plan multiple scenarios, forecast demand, and create an optimized and efficient course and room schedule.
CourseLeaf CLSS is a robust section scheduling platform that provides intuitive tools to effectively plan, edit, validate, and publish class schedules term-over-term. CLSS is customized to follow specific institutional rules, track trends, and help users forecast future course demand.
"We are excited about this integration because it adds yet another tool - our Look and Book functionality - to CLSS that enables institutions to make better scheduling decisions utilizing data pulled from 25Live," said Lee Brintle, CourseLeaf CEO.  "We consistently work with our partners to deliver additional value to our customers, and we could not be more thrilled to work with CollegeNET on this integration."
25Live® makes it easy to accomplish every scheduling task, from quick room searches and requests, to detailed event and resource management. The Schedule25® Optimizer automatically identifies ideal room placement for bulk scheduling, ensuring the most efficient and effective classroom schedule.
"We're tremendously excited about this integration and expanded partnership," said Julia Noonan, Vice President of Sales. "We've worked closely with CourseLeaf for some time now to serve our mutual clients' needs. We're pleased that this latest collaboration enables room schedulers to leverage 25Live technology when creating their class schedules."
Additional information on this integration can be found here. For information on getting this integration or to set up a private demonstration, contact inquiries@courseleaf.com.
About Leepfrog Technologies
Gain confidence in your curricular processes and content with CourseLeaf's expanding suite of enterprise products – Catalog, Curriculum, Section Scheduler, Advising & Registration, Syllabi, Teaching Preference manager, and Class Demand solutions. With 25+ years of excellence in software development, Leepfrog delivers to colleges and universities innovative comprehensive solutions to meet the complex and ever-changing needs of higher education.
Media Contact: Melissa Christensen mchristensen@leepfrog.com
About CollegeNET
CollegeNET, Inc. designs and builds on-demand SaaS (Software-as-a-Service) technologies that help colleges and universities improve operational efficiency, enhance communication with constituents, and save resources. The company's systems are used by institutions worldwide for event and academic scheduling, recruitment and admissions management, instructor and course evaluation, web-based career services for students, cultural learning and college preparation, and electronic academic records delivery.  
Media Contact: Jill Thacker jill@collegenet.com
Leepfrog Technologies, the Leepfrog logo, CourseLeaf, and the marks relating to other Leepfrog products and services referenced herein are either trademarks or registered trademarks of Leepfrog Technologies, Inc. All other trademarks are the property of their respective owners.