CASE STUDY
CourseLeaf's Integration with Accruent EMS Makes Room Scheduling Easy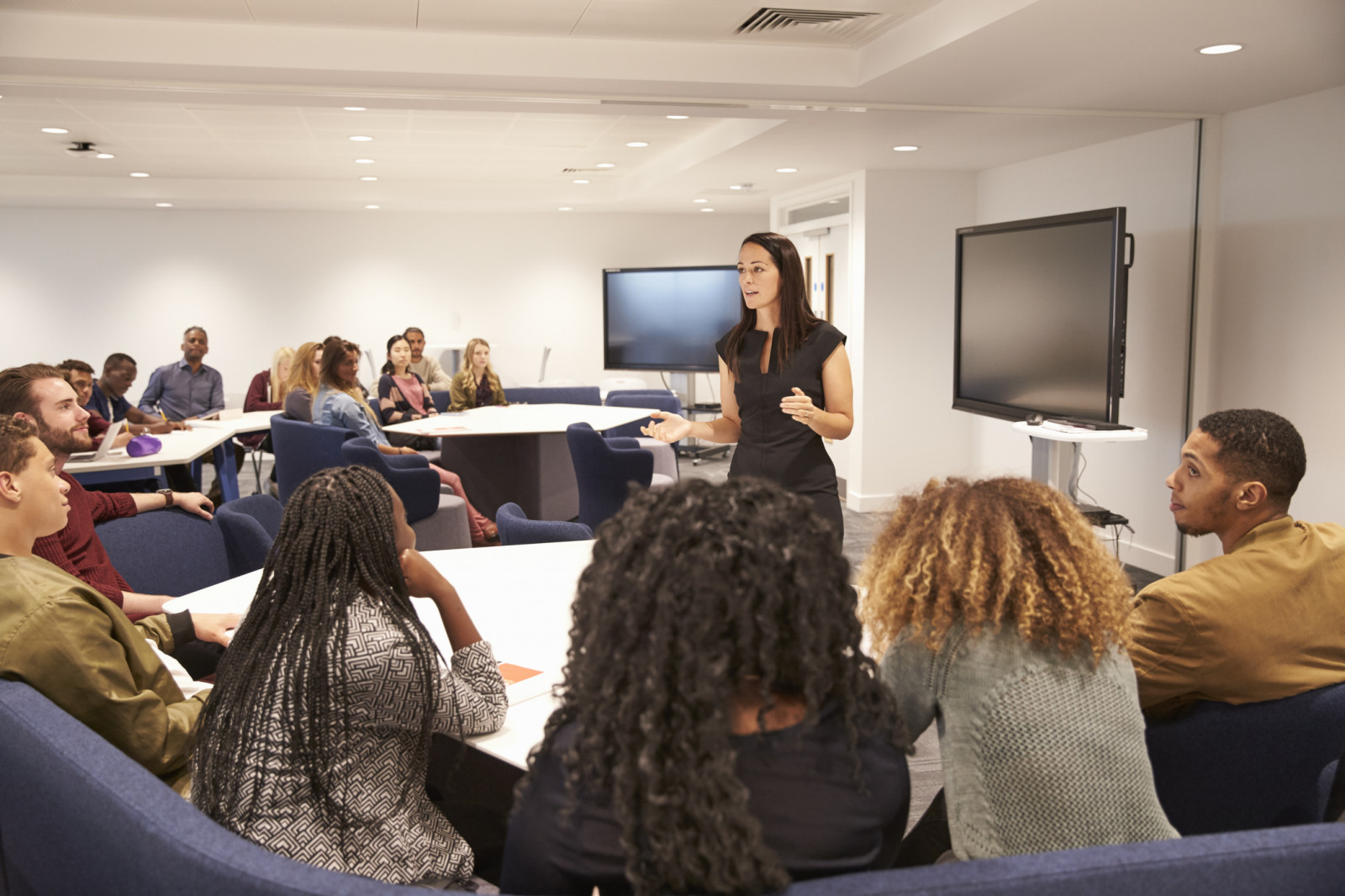 New feature offers CourseLeaf campuses complete transparency regarding classroom use
There was a time not so long ago when Seattle Pacific University (SPU) staff cringed before opening their email inbox. They feared reading angry emails from professors who hadn't been assigned the classroom they requested and dreaded the volley of emails that would follow when they told those professors that the room decision was final.
"When faculty members were unhappy with a room assignment, they would complain and try to coerce the registrar staff to make a room change," says Megan Hamshar, Associate Registrar of Catalog and Curriculum at SPU. "It was not a good situation, so we took that situation completely out of play."
Things changed – for the better – after SPU worked with CourseLeaf to integrate Accruent EMS, a resource scheduling software, into the school's existing CourseLeaf CLSS section scheduler. Wesleyan University in Middletown, Conn., and the University of Oregon, in Eugene, Ore., also use CourseLeaf CLSS with Accruent EMS (called CourseLeaf CLSS Look and Book) to eliminate stress and make room assignments and reservations easier than ever.
"The academic scheduling staff was inundated with requests to search for different classrooms," says Sarah Strickler, Sr. Assistant Registrar at the University of Oregon, of the time before CLSS Look and Book. "Turnaround time was slowed by vague requests for a room slot 'anytime between 10 a.m. and 4 p.m., either Monday and Wednesday or Tuesday and Thursday.'"
At the University of Oregon, a campus with more than 22,000 students enrolled in 315 degree and certificate programs, the Accruent EMS integration has made an enormous difference. Strickler remembers well the quarterly meeting with campus partners when the integration was announced: the room erupted into applause.
"It has been very well received by everyone on campus."
A solution that removes stress, saves time
At SPU, a private university with 3100 undergraduate and graduate students, CLSS Look and Book has reduced frustrating exchanges between administrators and faculty members, freeing up time for everyone involved.
"This new feature has standardized how we assign rooms, and it is making a huge difference in terms of the amount of time staff spend on room assignments," says Hamshar. "They no longer spend most of their day responding to emails about room changes."
At the University of Oregon, a similar room-reservation revolution has transpired. Today, academic departments use CLSS Look and Book to independently search for an appropriate classroom. With the search function, they can easily find the classroom that best matches their needs, and there's no go-between.
"There used to be multiple emails between the Scheduling Team and departments to determine which was a priority for a specific section – room location or room size," Strickler says. "Now, departments make that determination independently before submitting their room selection in CLSS."
A tool that delivers transparency
At SPU, like many schools, faculty tend to gravitate towards specific buildings and classrooms, typically those in modern facilities with miles of whiteboards, high-tech teaching tools, and movable tables and chairs. However, not all buildings on the SPU campus offer these amenities. In the pre-Look and Book era, professors who didn't get a classroom in a modern building would complain that they weren't treated fairly and that their students' learning progress would be jeopardized.
But with CLSS Look and Book, professors have open access to the classroom reservations platform, so they know exactly what's available to them and their department. They know in advance what classrooms they have access to, so there are no surprises. The transparency that the integration delivers makes planning – for everyone involved – 100% better. It eliminates complaints of bias and reduces tension and frustration.
Professors – and anyone who wants to reserve a room, including student clubs, administrative departments, and community members – also have access to details about each room, making it simple to get the right fit. CourseLeaf CLSS users can review photos of a room, lab, or lecture hall and peruse a list of features, including square footage, seating, and ADA accessibility.
"With CLSS Look and Book, the power to choose a preferred, available classroom rests in the hands of the departments, eliminating the need to contact the Office of the Registrar," says Hamshar. "Because faculty members can see for themselves exactly which rooms are available and which ones are off-limits, they tend to make room requests earlier than later."
At Wesleyan, a liberal arts school with 3,000 undergraduate and 200 graduate students, the transparency delivered by CLSS Look and Book has been a game-changer. Before, faculty members struggled to understand the process and complained when they didn't get their first choice of classroom because they didn't have a high-level view of space availability – and shortages – on campus.
"It can be challenging for instructors to understand the limited space we have on campus, and before Look and Book, they would often get frustrated about room assignments," says Amanda Daddona, Senior Associate Registrar at Wesleyan. "Having real-time availability and transparency in CLSS is huge, as now folks can go into the system and see that often, there's little to no space left, particularly during peak scheduling times. They realize that they have no choice but to make do."
A smooth set-up and launch
Integrating the Accruent EMS tool with CourseLeaf CLSS is simple and generally requires two months or less. However, implementation time varies from campus to campus because some schools have established stricter oversight procedures for their EMS system. It is also necessary to purchase a partner license from Accruent to use EMS with CourseLeaf CLSS.
At the University of Oregon, administrative departments started using CLSS Look and Book in the spring of 2022.  It was rolled out to the entire campus a few months later. A couple of telephone calls and email exchanges between CourseLeaf staff and on-site administrators were all it took to iron out minor glitches.
"Integration could not have happened any quicker," says Strickler.
The Wesleyan campus served as a beta tester for the new integration, which means that faculty and staff used the tool before the product was available to all CourseLeaf clients. But even in the test phase, using the tool and working with CourseLeaf representatives was easy and headache-free. Daddonna, who served as project manager, worked directly with Patrick Boateng, a product manager with CourseLeaf.
"It was absolutely easy, and that's due in large part thanks to Patrick and his team," says Daddona. "He is an amazing project manager: effective, a great communicator, and a brilliant problem solver.  It was our most seamless project with CourseLeaf, and everyone on the Wesleyan side felt it was managed well."
CourseLeaf CLSS Look and Book integration is currently available for Accruent EMS and CollegeNET 25Live.