CASE STUDY
How Three Campuses are Leveraging Software to Strengthen and Share Learning Outcomes
"When learning outcomes are up-to-date, an academic advisor can simply pull up the digital catalog and take a look. Students have instant information about a class, what they will learn, and how their progress will be measured."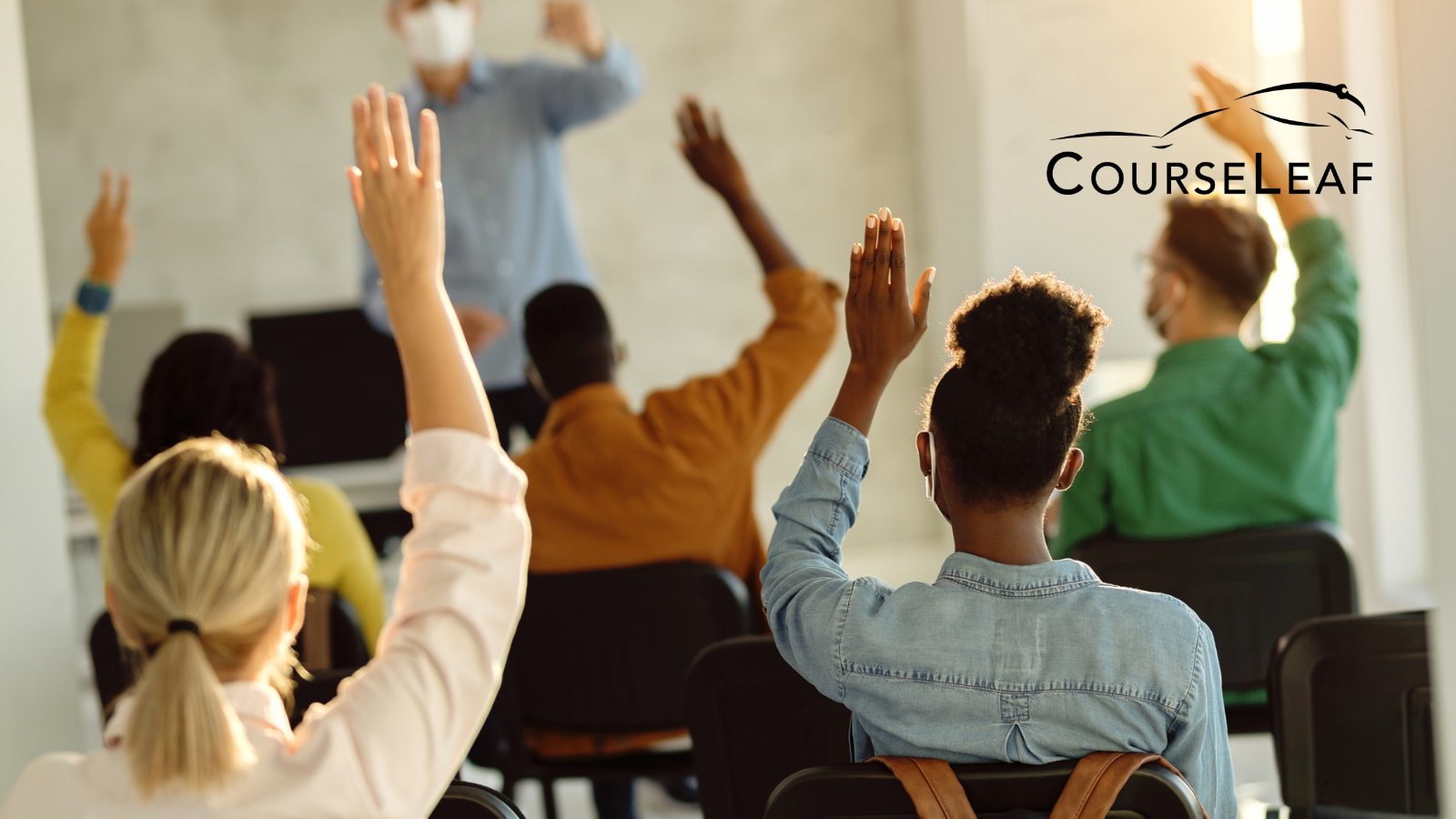 CourseLeaf and learning outcomes
Learning outcomes play a crucial role in tracking student learning, accreditation, and even SEO.
There was a time when professors listed learning outcomes in course syllabi, which they distributed on the first day of class. Students had no choice but to suspend their curiosity until they held the syllabus in their hands. 
Those days are over. 
Today, professors share learning outcomes via digital catalogs and program websites even before students sign up for their courses. As a result, students review learning outcomes in advance and rely on them to acquire the right skills for career advancement.
Campus leaders are also using learning outcomes in the accreditation process as proof that their institution is making good on its educational promises. A few have even used them to improve the google ranking and search engine optimization of their programs. 
"Marketing wasn't on our mind when we moved our catalog and learning outcomes online," says Erika Carman, Instructional Systems Specialist at Central Oregon Community College (COCC). "But our programs are easier to find than ever." 
It turns out that keeping learning outcomes up front and center makes a lot of sense, and CourseLeaf is helping campuses across the nation publish and promote them. 
Creating a roadmap to success
Learning outcomes are central to tracking student performance and success. At many institutions, they serve as a contract between students and professors. Students review learning outcomes to know precisely what skills they will gain and use them to inform their enrollment decisions. Professors create them to manage expectations and inform their colleagues and dean. 
"By providing learning outcomes in our digital catalog, we're telling students what skills they will have if they successfully complete the course," says Franklin Clark, Director Assessment and Curriculum at COCC, which educates 3,800 students on campuses in Bend, Madras, Prineville, and Redmond. "Clear learning outcomes serve as a sort of contract between the school and the student."
In many ways, learning outcomes are a learning roadmap. They help everyone understand the educational steps necessary to arrive at graduation day. They help departments function more efficiently because every member of the teaching team can track academic milestones. No one is left wondering if programming in python was covered in the first year of the business analytics program or the second. 
"Course outcomes, or learning outcomes, feed into the program outcomes by showing the knowledge that students gain throughout the program," says David McGrann, Catalog and Course Records Office, at Wayne State University (WSU) in Detroit, Michigan. "A curriculum map is used to ensure that course learning outcomes effectively support program learning outcomes."
They also help WSU administrators determine "what's working and what's not working," says McGrann. When a new course launches with clearly stated learning outcomes, administrators can more quickly identify areas needing improvement. Successes are also captured. 
WSU partnered with CourseLeaf in 2017, and McGrann says administrators feel more confident knowing that learning outcomes can be stored, referenced, and easily updated. The campus--which educates nearly 25,000 undergraduate and graduate students at 13 schools and colleges--was planning to add program learning outcomes to its digital catalog in 2020, but the project was postponed due to the COVID-19 pandemic. 
McGrann is eager to pick it up again. "I'm definitely going to bring it back up, and I'm already looking for departments that want to serve as beta testers," he says. 
Communicating changes
At Azusa Pacific University (APU), a campus of 10,000 undergraduate and graduate students near Los Angeles, administrators use CourseLeaf software to keep learning standards current and communicate changes when they happen. The software makes it easy to find the most up-to-date learning outcomes for a course and automatically notifies campus community members when a new version is published. 
Before CourseLeaf, "there was a feeling that program learning outcomes and changes made to them weren't being shared the way they needed to be shared," says Jeff Tirrell, Director of Curricular Effectiveness at APU. "Now everyone is in the loop: the assessment office, faculty governance, marketing, and the Registrar's Office."
The effective use of the software has won over many staff members, who have come to trust and depend on Tirrell and his team. 
"With CourseLeaf, everything is more efficient and accurate, and people on campus appreciate that; they see how it saves them time," says Tirrell. "When learning outcomes are up-to-date, an academic advisor can simply pull up the digital catalog and take a look. Students have instant information about a class, what they will learn, and how their progress will be measured."
Keeping standards high
Learning outcomes are also important when it comes time for accreditation. Administrators at campuses that use CourseLeaf to keep track of learning outcomes say that they often use data stored in the system as proof that they are meeting student needs and the overall educational mission of their institution. 
"Our use of CourseLeaf to review outcomes has been reported to accreditors  as evidence of our continued improvement, as well as an example of our standards in learning," says McGrann. "CourseLeaf makes it easy to show our accreditors that we are serious about assessment." 
Making time 
Keeping track of learning outcomes requires focus, and as a result, a serious time commitment. But with CourseLeaf, COCC director of assessment and curriculum, Franklin Clark spends less time picking through different versions of course learning outcomes. He says the entire process of preparing and publishing learning outcomes is more efficient with CourseLeaf.
"Upwards of 80 percent of learning outcomes have measurability issues, which means that they are written in such a way that they were impossible to measure," says Clark. "CourseLeaf keeps track of learning outcomes and frees me up, so I have more time to work with professors and assess learning outcomes."  
Tirrell says APU community members have come to trust CourseLeaf to solve their learning outcome problems and see it as a necessary tool to move the institution forward. 
"I think everyone on campus, from the Registrar's Office to the Dean's Office, sees how useful CourseLeaf is," says Tirrell. "Everyone recognizes that it makes our lives easier."